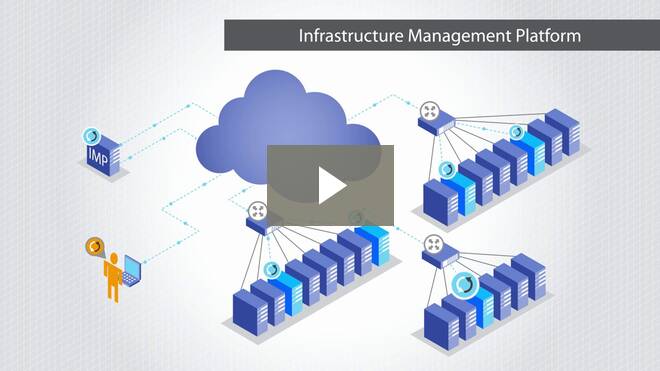 Infrastructure Management Platform
Our product enables streamlined deployment of servers and applications to physical or virtual locations, regardless of the infrastructure size. The platform not only reduces your time-to-value and lowers your costs; it gives you the ability to respond quickly to dynamic business needs and maximize efficiency. IMP allows system administrators to rapidly perform changes that would otherwise take hours or even weeks. Now these changes can be performed in minutes.
Configuration management
Eliminate inefficient dependency on human intervention and take the workload off of your system administrators. IMP automates routine configuration management processes, saving your businesses' valuable time, man‐hours and financial resources.
Continuous Delivery
Shifting the production release stages from months to only a few days is easy. IMP presents your infrastructure as code and accelerates the whole new release process, allowing you to continuously adjust services and software products according to changes in the market, user feedback, and modifications to your business strategy.
Endless possibilities to scale
IMP offers a scalable approach, allowing companies to develop agile growth strategies and significantly accelerating the rate at which they deliver products and services. IMP is perfect for dynamic infrastructures. It gives you the power to deploy and configure new servers faster than ever, without changing organization's workflows.
Configuration Drift no more

When configuration drift occurs, management can become extremely difficult. IMP eradicates the configuration drift by identifying elements that no longer adhere to the predefined state of infrastructure and reports them to the appropriate administrator. The changes are then reverted back to the desired predefined state, minimizing the risks to the whole system.
Maximum Uptime
The accidental downtime can directly affect any business, resulting in lost business opportunities and frustrated end-user experience. By automating configuration management processes, companies are able to significantly lessen potential downtime, safeguard server and application performance, and promote new revenue opportunities.
IMP was built on a simple idea of making it easy for system administrators to configure and keep a close eye on tens, hundreds, sometimes even thousands of servers within complex infrastructures. Smaller companies can benefit from the platform as well, as automation commonly makes configuration management easier in an infrastructure of any scale.
Improve the efficiency, agility and resiliency of your infrastructure with Remsys IMP.